My Khaosan stay!~!
Friday, July 28, 2006
Hmm..1st dae in Bangkok-Khaosan..The budget holiday starts..where Eurasians on backpacks surpass Asians in town. Khaosan is really an interesting place where night market reverts us to mere shopaholics in seconds. Pure blissfulness Awh..
.
<-our Daily breakfast
HUge lollypop
!
Our Clubbing night spent at Route 66. There was 2 camera , i was prolly looking at the other 1..hahaa..weird me. The 2 gals between Jiashan and Jasmine are Our Thai friends cos thats Kelvin's thai gf and his gf's friends. We were lucky to have Kelvin there which allow our Thailand trip to be more enjoyable..
See!!! Thats the widely acclaimed Female restroom that i have been telling you Guys..Darn classy and Huge man. This small portion of the Ladies accomodate a small band with Cushioned seats around so gals can sit around and enjoy their Music..My , imagine our squeezy lil ZOUK toilet!! *chey , duno whats so fantastic about Momo's loo when i saw this that day man...Route 66 Rules..haaa
Deh! My new manicure with pretty nailart. The personnels there were darn professional and fast ..*swish swish* then Done liao..*Sianz* Even the waiting time was longer than the actual Manicure ar.hahaa
Yeah~Home sweet Home..the Yo-Yo Gang ..*we trying to act young eh* Lovely Thailand trip..sooo Much fun , gonna go back there next yr man.
Penned @
3:55 AM
In Loving Memories ..
Wednesday, July 26, 2006
If anyone ever once told me i would be stumped by problems of the heart a year ago, i would have laugh at his/her face .. I did not even think that i could truely love someone lest to be hurt badly by Love . Yet a year ago , i Love..or rather Loved. Half a year later , i love and lost but continued loving ...thinking one day , i will succeed in getting him back cos i thought our love was strong enough. "I just need him to realised that..that we belong together.." so the past 5 months were spent with me in delusion. While the main lead was actually falling in love with another person while i was busy thinking how great it would be if we do get back , what i am willing to do and change in order for our "coming" r/s to be better than the past one.
I thought of going to his ORD Parade by going as HAN SEn's guest even if his own gf was going..silly me right?? But no one knew cos we made a pact once that i will be there for his ORD Parade, whether or not im his G.F . Although when i knew he gotten back with his Ex-Gf, i though may be , just may be it was a deploy to forget me. Yes...egoistical me did not wanna accept the fact that he was over me and happily in love..i delude myself still . Just because i cant find someone to replace him , i thought he will not be able to, too.
Yet i was wrong. I knew only today , that he love her yes, in hurtful present tense. May be he loves me too. But for me , Love so pure should only have 1 person in our heart..two person in love. If you have love someone new , our Love , r/s can only be left as memories...Our Love was pure..strong , not threesome. I wan you to be free of pressure so i decided to free you from all these trouble and mess.
YOu taught me something..i will never forget. To be Loyal and never hurt your loved one even if its unintentionally. I will remember that , thank you (i genuinely meant it dear...) and will try not to repeat the mistakes i have done. The hurt i have caused you , i will not want that to happen to my loved one again. I learn from you and our r/s. My 1st ever serious r/s .
Thanks for the memories you gave me...The same story that you and i had , you thought you suffered towards the end..It was different for me..Mine was a lovely story , i reckon i had a wonderful , patient and sweet bf who once did everything he could for me. YOU sacrifice, i sacrifice.. it wasnt any form of torment to me. Hardship it was..but beautiful while it lasted for me.
Our memories lie like a beautiful rainbow...
colourful with all the things we did
Like the morn Mac breakfast we got..
by walking in the rain as a "romantic gesture".
towards the end of the rainbow i fathom ,i saw a pot of gold
The gold shone brightly
with our memories of balestier , Xmas eve , Dvds
and even stuck cuddling at home on weekend
Volleyball , a sport that drew us close
became a sport i void and avoid
in fear of memories that taunt me
like us in sport jersey
Now i play soccer
and you wear matching soccer Jersey with another half.
It wasnt me..
i cant regret nor reconcile
Its our love that faded
and i cant save from afar..
Left me in the same spot
5 mths..stuck in a rut
Finally our chapter came to a closure
An ending..of a beautiful story
A happy ending for you i hope , my dear
My story will continue
as i venture forward
alone , with our memories in tow..
Penned @
2:35 AM
Back..BAck...
Saturday, July 22, 2006
Yeah~~ Had soo Much fun during the BangKok trip , couldnt imagine buying so much stuffs in 4 days. I bought lotsa dresses , tops and casual shorts in order to wear to school when August hits this year. Jasmine , Sam and Shan bought lotsa stuffs too...we had to dragged our bags back from Bkk...they were real heavy. Jasmine and Sam had to buy plastic "karang Guni" bags to fit all their newly purchased items. Luckily , Sam's dad came and fetched her from the Airport and Shan's friend gave us a ride home. Lucky us...haaa..
Photographs of my Thailand trip will be up soon...Yeah~~
School starting...Sianz...
gotta pack my messy room soon. Its HorrendOUS!!haa
Penned @
6:38 PM
Weird PRINCESS has an unresolved ISSUE
Thursday, July 20, 2006
Hmm...there were some mistakes on my previous entries due to miscommunication about the "virtual war" issue as the Feliza Ong who posted my best friends pictures said that she wasnt targeting me AT ALL (that part i knew from dear M.M in my tagboard and Feliza Ong on her 17th July entry in her princess's blog) .That she was targeting Marian or dunno who , who is in the picture (she still dun wanna say who yet..weird gal)all along. Finally...*chey if she would be clearer about it then things will not be this messy mah. I wun post my little cute pictures up my blog liao then. But still 4 of us dunno her at all...when did they ever irritate her?? She self deluded or she thinks she super pretty or what??hmm..she dun wanna tell us, saying she GONNA LET THE MATTER REST by deleting their pictures and that entry. WHAT THE HELL? HEY YOU THINK YOU THE QUEEN AR?? HAPPY HAPPY THen persue the matter , thinking that if you delete the post then we should be grateful eh?? Siao then why in the 1st place you wanna target marian in that hostile manner for?? When marian or any of them has no idea who in the hell you were , no matter how popular or pretty you claimed to be..we seriously have no idea man.
Shall Shed some light and show you the "FAMOUS Model" plus Blogger who Actually reads my blog and commented upon it. *wah..i so happy seh. Siao , who ask her come and read my blog then still wanna comment seh. She darn bossy sia, wanna teach me how to live my life. Ta Da~ let You see->
http://meetlilprincess.blogspot.com/2006/07/i-aint-bitching-but-speaking-up.html#comments
*sorry dear Feliza ong , i wanted to copy and paste about how badly u described me..poor little me wanted some justice done , but since i am unable to copy and paste that particular entry up..i can only let my friends see it this way.
1st im really apologetic as we had no idea who Feliza was aiming at , Marian did not know this particular Feliza at all..Never seen her in fact and she never tries to explain whom , why , what. So our poor da vincci code was not cracked correctly , not that i was being THICK SKINNED but next time do make it easier by saying the name and why yah? so that being clear..i move on to the next agenda
I may be simply a nobody as what you had said but just because you appeared on magazine , newspaper and whatnot events dont make seemed as if you are a Superstar ler.Me and You , the only difference that i see is , i dun go around working by parading my half naked body , squeezing my boobs outta some half size smaller bra cups and splashing all that pictures all over the place. Yea yah..i dun have your kinda body and fantastic CUP Size or your very Pretty face so cant have Fantastic paying jobs that you do. Even if i do , i probably wun show pictures of me in SEXY THAI MINI School SKIRTS AND BLACK STOCkings..so dont preach to me about what i should or shouldnt do yea...cos even if i am not that pretty , i leave some integrity to me and my body .
2nd: Weird girl eh , Feliza says she is busy and unlike me she dont spent all her time infornt of the computer doing nothing . Hey dun ASSUME eh , just because you are busy doesnt mean im free although i did say i was on holidays. I do work for your infomation , AMORE , giving tuitions and manning a shop , and so i repeat..just because im on holiday and do READ your blog doesnt mean im bumming around yea. I teach more students than you having photoshoots a week ar.. What seh..saying im infornt of my computer all day long. You are the one that blogs more than i do ler..you post so much more SEXY connotated pictures of you more than me , the way i read your little Friendster's blog about your 1st Orgy..hmmz even your SEX LIFE is more exciting than my non existance kind. Ending on a serious note , i think you seemed "Free-er" than me but hey we shouldnt assume like you rite??
3rd: This "Pretty face but overly egoistical gal who aims at Marian,asking marian to get outta her life when we dont even know her, we seriously think she is deluded but since she is the princess , she asked me to stopped this ISSUE,THIS MOMENT and i HAVE TO OBEY COS she is the PRINCESS" is funnily weird, think NYP giving her too many assignments and she gone all bonkers liao. You know what she did?? She Gimme a list of "what i will do if i were YOU" !!???!!!
she implied that i should improve my command of English language as she felt mine was horrendous. *duh..You-who-knows-it-all , thinks everyone should write in perfect English which you probably felt your flawless smooth flow of sentences cum politically and grammatically correct English usage would AMAZED me. What the hell?? Just because i dun write in good english and has grammatical, spelling errors all over my blog makes you think i have HORRENDOUS standard of English LAnguage?? Dear naive gal , i choose to write in informal , singlish and even HORRENDOUS english doesnt dictate me to a certain standard as you have seen , on my blog. Although you helped edit your fellow project mate's english doesnt mean i need your help in the english department by telling me what to improve on. You wanna help me edit my past GP essays and assignments?? MY Horrendous English Standard as you had CLAIMED FROM NOWHERE EXCEPT Alittle piece of my blog fathomed you in thinking that. I have no idea my O'levels and A'levels Bs grade were that HORRENDOUS , the Cambridge English Paper maker must seriously have a problem then..May be you have gotten As for English Language , hmmz...even A's dun garner you a high position in telling how bad my english is..because i have NEVER FAILED an ENGLISH PAPER in my Entire life nor do I need a lecture on how bad my English is , simply because i chose to write in PERFECT SINGLISH . Unless you major in ENGLISH LANGUAGE or is a Linguist you can ask me to improve my english eh , till then shut ur all superior voice as if you ordained some superiority by checking fellow project mate's english usage. Siao...U think you princess then can tell people what they should do ar , u think i what?? your lil subject ar? Dream on la..nuthing to do then post what pictures and delete them, then expect people to let the matter rest? You dictator princess le.. :)
Then no. 2 on her list , MISS Princess ask me to pick up a new skill..which i did.. Standing up to bo liao people who do whatever they like , and then expect people not to persue when she clams shut. Cos right now i still have time to irritate her , who ask her ar..spams about people in her blog then she can call it "SPEAKING UP" when we talk about MISS HIGHness, she calls us bitching..Oei , double standard doesnt apply here la. Siao , just because you show pretty and revealing pictures of yourself means you can bitch in your blog and i cant?? I oso can Bitch many many entries and ask you to "STOP BOTHERING ME" *jolyn act flustered and very pitiful wearing some revealing tight t-shirt and licking her lips , with big BAMBI eyes* and maybe post up some pictures of you in that tight skirt and white school shirt with black stockings (which im sure my guy friends would love to see for a change in my blog. They can do fantastic virtual images when they are very free in camp. ) Then when you get angry , i would delete ALL my offending posts about you and YOU SHALL NEVER EVER PERSUE THE MATTER AGAIN. IN YOUR BLOG OR ANY OF YOUR FRIEND's BLOG! And why so?? COS I SAY SO , COS i already let the matter rest, YOU should too. Hmmz...You be patient abit more k , maybe after 3 more bitching blog entries..i will delete them yea.JUST LIKE YOU ..just like you..
Lastly , Feliza's advice to me was to make a difference in someone life (which im ..Yours..) , start volunteering (which i did long ago...Feliza...you should club less often , wear more pieces of clothings and come join me in that old folks home..we can volunteer together..OH am i preaching like what you did?? )Siao, advise me on what to do if you were me..you stop acting and posing like some bimbo, desparado for guys to link you up with slogan like "Sex SElls" , sexually connotated images then yes may be i will write in better english for your pretty eye's benefit only yea.
And i dont care if you are over that issue onot ? HAppy then post pictures and scold unknown people , not happy then delete post and except nothing from us . WE WANT AN ANSWER OF WHY ARE YOU TARGETING MARIAN THAT TIME AND WHAT FOR?? Weirdo..Think You really Princess and everyoneesle is your poor subjects who should do as you please ar. Gimme advices somemore , If i want them , i would have joined NYP freaking years ago in that BUSINESS DIP. i was offered and may be Beg for Your HIGHNESS to edit my assignments for me ar. Siao, i write ya name since you are already a SOMEBODY , it doesnt matter . You wanna link me and scold me then go ahead la. WHAT ask me to "better not put it(her link) up" siao...listen to you...better listen to your advices too...U THINK JUST BY LICKING YOUR LIPS and POSING SEXY PICs WITH BAMBI EYES then I MUST DO AS YOU WANT AR?? "ENGLISH LECTURE-R" DREAM ON LA.
AND I shall NOT say anything MOre.IM seriously over this Issue already(for tonight nia hahaa.) UNless you do.
SIGN OFF:
NOBODY, UNPRETTY , SUBJECT of MISS PRINCESS, CHILDISH
HORRENDOUS ENGLISH Mate *haa..funny seh*
PEACE
Penned @
1:25 AM
Bahts...Coming...SG~~gone
Friday, July 14, 2006
Help me save $$, dun call me (not bhb k , just telling ppl who may wanna call me for supper or shopping) cos im NOT in SG-15th -19th JULY yea :)
Yeah~~ Im going to KTV with Lynn , Marian , Cheyl and their Bfs-Kenny and Philip. Yea...gonna have a blast later. Sing my Elva..my JAy chou ~~ *lucky u aint there to hear me sing man..if not u will cry..haaa Ever hear the combination of LOUD and Unpleasant before??haa
And Tml night i shall be at ~~~~~~BANGKOK~~~~~~~~~ with
Me.Shan.Jas and
SAm
We are going to sHop-Shop SHop..How about U, YOu , u?? You can Come Too..too Too..
Coconut Juice..Food..Massages...Shop.. Wooooh~~~~
Update when i get Back. So now u noe...Pls dun call me yea, i will be back on 19th July..WEdnesday.
P.S : Clubbers do me a favour,help me look out for Raymond when you are in Zouk , WIneBar or any popular pubs eh..See that he dont flirt with babes too much yea..Will Update his pic so u guys can recognize him around yea...hahaaahaaa...
Penned @
5:50 PM
Yah la..Give u La..
Wednesday, July 12, 2006
Give u la...U want Pictures?? How about me and Tonari no Totorro?? U can Bitch abt him!!
I decided! Post some nice pictures..(pls dun Steal them and post them of blogs that hate me hor..if you want , Nah i give u this la...) How about me and sam??
Side view la..My whole face not nIce. SEE im a nice person what , I even Look Nice , Friendly and chummy..wahaha
Anyway...My dear best friend Lynn who is a wonderful jewellery maker came up with a line of faB Bag chains..Lovely ornaments to hang on any bags . They add charms , tint of differences to any other bag outta there...take a look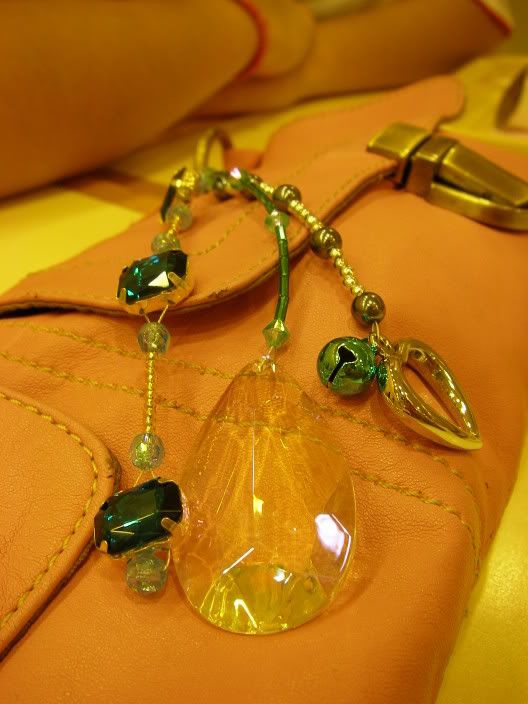 Lovely...and Its only going for $15. Interested parties..pls call me , i can transfer ur order to lynn..she can make other similar pieces , one and only for you and the bag you cherish so much to differentiate from other Common bags outta there. Handphone chains , key Chains..you want it , u name it...
Penned @
3:20 AM
Lights dawned upon me!!
WHat the mutherfucking hell...that Sweet princess blog 's entry (which she NIcely removed) was actually targeted at me , my frndster's blog and this blog .
Hmm...i actually dinnoe that my blog was THIS famous that ppl bother about what i wrote . Cos my blog aint the widely known kind..it is just a public blog for me and my friends to know what am i up to , for the past months.
That gal actually said that the person she is targeting wasnt in the picture->me....
*Duh..weird right?? You wanna humilate a person , u dont go around posting her best frnd's pictures up right?? I mean if i knew she wanted to target me , i would have gladly replied her or whatever she has a problem with me , we could settle it eh?? Instead she said I (99%) blog abt her friend in my blog ...so i blog...then??? Ask your lil friend come call me or email me la..why need you to stand up for her , using my BEST FRNDS PIC??WHat the hell wrong with AIMING CORRECTLY DEAR??? YOu CANT SEE?? I BUY Glasses for U...
Siao le , i blog but never blog that gal's name what , sumore only people in my friendster list or ppl whom i noe will access this 2 blog (unlike her's) ..Must be ppl butt itchy , wanna come login my blog and read about unpleasant stuffs that they feel are unsightly to their eyes. IF it hurts ur eyes...dun come and constantly read my blog then. I aint trying to destroy or even smear anyone's reputation man , the blog kinda like my diary eh...what do u expect?? Write not what you feel , write Not what you think , write but not who u dislike eh??TMD , my Blog still need you this lil pixie of a model body and face , to tell me who to bitch and what not to write ar?? Hey , come NUS and tell me la..Graduate from your NYP and i wait for u in THE DECK yea? Grow up man... (-'
Blog using ur pictures without our permission...as Cheryl and marian said , Feliza ong (or whatsoever her name is ) can come to us , we would gladly give u one of our NICER photos. Yesh , she may have a nice face ...mine may not be as pretty as hers but doesnt mean she can post Uglier picture of US (this time maybe she would like to include mine..Yeah i can be Famous liao LO...lil XiaXia or Lil JIng Jing!!!!haaa) . Then a day after we commented and posted emails to her , she took down her entry...Chey** u wanna post this kinda stuff , expect to have a huge Outburst man! She still email Lynn...saying it was funny , the way my reaction was so big when my picture wasnt even in the entry...Siao...If my Picture is in that entry , i make sure my frndster list , my msn , my blog and all my frnds get the hang of it and STALK YOU, UR BLOG , YOUR Frndster (oops which FELIZA do not have , as she was kana Banned by Frndster for trying to post some *** pictures ) . I may not have a widely acclaimed blog as u *Feliza* if you are reading this ...i may not have as many friends as you and your pretty faces friends have ..but i do have some which may fight this stupid "blog" or whatsoever virtual war with u. Siao that PRIN-CEss emailed lynn saying "pls ask your frn not to bitch in her blog..tell ur friend im not as free as her who can be infornt of the computer day and night ..." WHAT UR FRND , UR FRND??? "UR FRND" ..no name ar , dare to blog then say my name la...and dear im FREE , Yesh , if u see my frndster or my blog you should know. IM ON a BLARDY 3 mThs Holiday , of cos im FREE la.. U Different..need to model with bikini...very bz. I cant le..so i can only blog . :)
Me and my friends aint the nicest person u should trifle with...i aint nice i admit but i never post anything bad about you b4...only people whom i have something against . I dun publicise my blog...so not many read it. My Blog , u want to come and read it then pls do..i never beg for ur readership and i never offend you . If i do bitch , she must have deserved it. Let us "fight" it out by ourselves then , dun get my friends or you or any other friends involved. Thanks...I love not a coward , come forth and not hesitate...i dare to write , i dare to admit .
Penned @
2:37 AM
HEY Buddys..stand Up for My Friends!!! *Furious*----
Tuesday, July 11, 2006
Everyone who is my dear buddies...pls go check out this blog :http://meetlilprincess.blogspot.com
She has a Blardy problem...scolding my best friend-M. online duno for what..
M. Has oreadi msg her , asking what has caused her wrath that she has to create a destructive blog about her . Me and lynn has already commented on her blog..but obviously the idiot gal never reply . The 1st pic consist of my best gal friends-lynn and cheryl and come of our Jss classmates , the 2nd pic is their other classmates...We are Darn pissed man..taking our pics and not telling us what the problem...ESPECIALLY WHEN M. DUN EVEN KNOW WHO IS SHE!!!
WTF??~!!!! Lucky i wasnt in the pic...probably caused i was either busy mugging for my exams or too shagged to club , if im in the pic...i will MAke SURE ALL MY FRNDS GO WRECK HER BLOG. STUPID GAL , M. and us dun even know her , how to K.E.E.P MESSING? Up her life??? SHe Crazy for attention or what sia???
ANY BODY who knows whats going on in that idiot gal's mind , and why would she wanna frame M. or whats the misunderstanding in this situation..pls throw some light.
*PISSED AND ANGRY....
Penned @
12:48 AM
My lovely 3 yrs down the drain...another 3?? Salvation someone...
Monday, July 03, 2006
Life seemed kinda great after awhile. Going out with friends , have fantastic meals, clubbing..all seemed so blissful . But blissful things dun last. Saw my ex with his gf hugging in Momo...it was ok surprisingly..i have gotten him outta my system (roughly). Him and I had a lunch that went off rather amiably..so i kinda untie lotsa knots that day. Anyway for people who knows...he din block me on Msn , HE DELETED ME!!! what the hell...he HAs A GF 1st and he dares to delete ME??? haha but its ok cos i have more important things on my mind than them man.
Was talking to another friend that day , he sounds happy with his r/s but then i sensed some undercurrent going on beneath ..I hope things gonna be ok for them.
*Bad Dae* some one irritated me..
And i happen to have less guy friends left for supper and slacking outings.
Life was Great...Now not so. Seeing *his gf 's black face was the Highlight of the week.
Now back to reality...i hope this time round , i wun have to drag for another 3 years cos the last time it was 3...i dun have so many 3 years..and im not talking about my ex (he is PAST TENSE liao Lu~~~) Sigh...get him outta my system..Gonna go on a Dating Spree!!!haaa
Penned @
12:13 AM