Tuesday, November 28, 2006
Evolution of dance
*Gosh! He is really quite Good at certain dance..Some parts, it is kinda boring but he made up for the others. It is really the rough guide of dance evolution over the yrs.. Lynn.. You will like this i think. *Party Time** ;)
Penned @
1:06 PM
BIRTHDAY COOMMMINNGGGGG~~~~
Monday, November 27, 2006
I wanT this Jacket for Birthday!! haha..I noe this is rude..but im helping you mah..If ermz if u dunno what to get for me on my bd..ermz..im giving u a option. Although i have no idea where to get this A&F jacket. wahahaa... (note: not applicable for best friends n triple Js..) haaa... *Evil Grinz
My current Life can only be describe using one word...and thats "SIAN"
Finished my 1st paper at 11am just now...Totally invented my own answers i think..I should simply stop studying n write my own texts and coursepacks. Sigh...
Funnily enough..last year n this year , i sat behind my buddy Kelvin from sch. So qiao rite..of so many people , i always (almost) get to sit behind him ar. Anyway feeling moody now cos the paper sux and i have 3 more papers during this week, *Gonecase*
Tada..See my life now!! Mugging company at its best..thats Hong , Zhe Yuan, He yi (propped his legs up sumore...;( ) and the mugging table from Hougang.
Thats me..not mugging cos i was taking a break. heehee This is actually a super condusive studying corner in Hougang..Dont understand how come Study Corner in Jurong is so different..the chairs, the tables and they even have fans!! Hmmz..some aspects that PAP overlooked at i guess.. "THey" are more detailed n sincere in people's needs and wants.
Okok..back to mugging. Wan ru is giving me the curious stare liao cos im typing away and the typing sounds made by my Loong nails are starting to infuriate her (and others in the library)..so Tada..
Penned @
1:43 PM
Birthday Coming ...Exams Coming...*Sianz*
Wednesday, November 22, 2006
-Exams are just around the Corner. yesh...Just...Im kinda burnout. Luckily i have Heyi, Yan Wei, Hong n guys for company during the most tiresome time-Mugging. No mood...i feel like Slping every time i see any coursepack of mine. *bleh*
Tada..I shall blow some Magical Dust so that everyone will get Good Grades..no matter which institution u r in, SIM,SMU,NUS,NTU...
yea ;)
Lemme show Ya my newest Craze...The miniature "Wilber Pan" hahaa
(of cos Pan Wei Buo cuter la...but he cute oso la...haaa)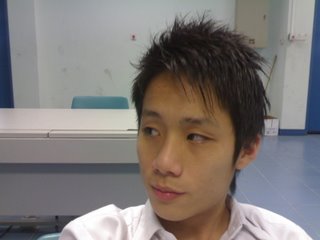 Cute Rite?? of cos la...Muahahhahaa *grinz*
Penned @
4:33 AM
CONFORMITY is To Proclaim Dying of Creativity..
Sunday, November 19, 2006
Go and read G.Q-M.B blog..
http://guoqiang1985.blogspot.com/
, it was about the preparation of Brandon's belated "memory lane" of our Lil 3Some (yupz...as expected Brandon was turned off by the name Lil 3Some..haha..) In that book was our creative juice turned on to the fullest, every picture had to be link with slogan and sentimental themes . One of the most memorable present that i had ever made n gave someone. Hope Yi Zhi Shu Likes it..
Exam SUXz...i was being proclaimed lazy by some friends..haiz i am..i admit but ..but...but ..LAZY LAZY LOR...I gotta live up to the reputation of a Slacker le..u think easy meh?? Haaa...
ANyway My New-est Idea-
I wana Change My Herbie to ->
Haha.... PinK-EST at Its Fullest! Im gg to scare the whole SIngapore with mY Animated Car..It can "blink" , Horn n "gesture" too...haha...Scary lei...
Must be Exam stress... - _-
Penned @
8:08 PM
Blissful as can Be~
Friday, November 17, 2006
Darnz, its the exam period again. Exam gonna start the week after and i have nt even start actual revising yet. I still have to attend a Bbq tonight and wanted to go KTV (get lunch oso mah) on SAT....im a gone case this semester. And to top it off, my usual company of FLU BUgs have arrived "on Time" to join me for the exams...Without fail, it is always here with me during the exam period. *grrr*
Anyway lets get on to some HAppy Memories on Last SUNday!!
Xiao Jing's ROM !! I had to wake up like Darn early to go over to Chevron and help her but as usual i was late. Everything went smooth and the Wedding Couple look so sweet. Mrs HO....hahaaa..
THATS the 3 of us!! Peishi, XJ and ME
Tada..The young Wedding Couple!
The

Future Couple..Got "Fu qi Xiang"?? We are all quite happy for Xiuwen actually, cos this guy seemed to treat her like a "princess"..Well, Xiuwen this is ur Princess Dream comes true. U 2 Gambatte Cyo *grinz
The Lesbianic Couple of the year. She is my longest friend ever. I knew her since Primary 1, 1st day of sch. This is our 14th year liao man. Sometimes i miss her...her craziness..our primary sch walks home( yea..i wasnt so lazy in the past..i WALK..haa) and our "ice cream walks"..our laughter..our ECP cycling...our EPB bookstore chats, the 4 of us that used to go everywhere together. I pity her..she was the one with me when my temper was at its worst. She had to endure my bossiness throughout the years. *Arigato Peishi chan..
Tada...It was one of the most SHagadelic Day ever... Mr and Mrs HO, i hereby wish you 2 everlasting happiness.. ;)
Penned @
11:16 AM
Oppression of the Pen and the PALs
Thursday, November 16, 2006
MANY HAVE BEEN HOUNDING ME ABout my comical US History essay.They say i beat around the bush and in the end never touch on the theme which is Black freedwomen,which i indeed did not really.haa My essay is about Oppresion of Black Freedwomen after they were given their freedom. I shall let u guys get a glimpse of parts of the essay:(Words highlighted in purple meant that its the weird parts that my frn felt was inappropriate for the essay that i was writing..die la, i always write weird stuff especially the analogy part)
"The new beginning for these freed women were to embark on the journey in search for their long lost family members. The separated husband that was at another

far away plantation

, the

sparsely separated children (???haa..inappropriate terms used?)

sold to all parts of South.
What I feel may not be a direct response to this particular reading but is an important

cosmic view

brought upon by this event. Such was a tragedy that a family had to be split up all over the place and grow up without the proper knowledge of a full family warmth and love. A

"natural" or normal

family that was supposed to grow up and old together was voided due to a particular group of selfish people or society that superimposed their inhumane ideas upon another
group of human beings. Indeed a man made tragedy that no one human should have the right to encroach on another person's way of life, to tear families apart just so they can get slaves. Who gives one human the right to dehumanize another human being?

It is not the will of God or wealth that makes one group of specific humans at a higher God-like hierarchy

. There was never a natural human caste system,

human are born in all different shapes, sizes and even 'color'

but the distinction lies there and then. There is only man made hierarchy or caste system in which people thinks one ethnicity is better than the other, male is superior to female, western countries are superior than eastern countries. All these are simply man made measurements, which results in discrimination of a particular group. In this case it was the discrimination of black people who were made slaves, their life entirely controlled by the white people. Black women were further oppressed, as they are female as well as colored.
An analogy that I came up with for freedom of that time to black women was like an ice cream offered to one on a hot day, you yearn to eat it but had no means to. It depicts a deep yearning for ice cream (freedom)

but had no means to eat it correctly, one can only sees the ice cream melt in your hand, and not being able to enjoy it. Freedom when obtained is useless unless the black women had the appropriate means to survive in the rat race."
Tada...Weird and long winded without an actual aim right? I sux at essay writing especially one with a theme..i run away with my own thoughts halfway after writing the title i guess. ;P
Penned @
2:43 AM
WTF IS YOUR PROBLEM??
Thursday, November 09, 2006
WTF IS YOUR PROBLEM??? WHATS THE HELL WRONG WITH YOU AND YOUR BUNCH OF IRRITATING MATES ...WHO THINKS IT IS HILARIOUS TO LAUGH AT ME .
There is this guy named JESSE or duno what gay name , he shared 2 of my tutorials on wed. IM FArking Suay man. At first i thought he was NORMAL AND SEEMED OK. On the 1pm tutorial , we were put into the same discussion grp weekly. I happened to talk like normal always , may be im abit overly noisy at times ( i assured you..i am not so ,in NUS...cos i tone down alot since i entered) or have alot of opinions .HOWEVER in my 22yrs of age i have NEVER EVER BEEN DEEMED AS NERDY ,DORKY OR FUNNILY LOOKING WEIRD KIDS.
ONE FINE DAE , I saw this guy JESSE in Library with another of his friend- Jonathon . So since he belongs to 2 of my class ..i decided to be normal n smile at him. HE IGNORED ME...we were just walking past...he seen me....and then he n his mate stared at each other after seeing my smile...AFTER THEY WALKED PAST ME..I Heard SNIGGERING...
WTF...DO I LOOK FUNNY? HE IS NOT HANDSOME NOR CUTE...if he gets the right to laugh at me...i depict i do get the right to laugh at him and his mate too. I MEAN IF YOU ARE EXCEPTIONALLY NICE LOOKING , AND I LOOK WEIRD OR DOWNRIGHT UGLY...MAYBE I CAN UNDERSTAND WHY IM BEING LAUGHED AT. BUT SINCE U and ur FRND ARE NEITHER, I REALLY DUN GET YOUR CORKYNESS AT ALL.....
I told afew of my frnds these...So Just now my classmate saw Jonathon and asked him for the reason. HE WAS ACTUALLY SURPRISED THAT I NOTICED THEIR BEHAVIOUR THAT DAY IN THE LIBRARY. BLARDY STUPID NUS GUYS...DO I LOOK FRIGGING STUPID TO U??? U WERE BLARDY LAUGHING AFTER YOU SAW ME...I CAN PUT 2 and 2 together...HELLISH IDIOTS.
Then he went on to tell my friend that it is cos they felt that i was rather "animated" ...DUNO LOOK WISE , Talking WIse or what not...MAy be i talk very rapidly but ANIMATED...THATS BLARDY DEMEANING la...although i felt like laughing at the phrase at times..but when it was used on me...i felt darn PISSED.
That Jonathon went to called JESSE to inform him that i knew. THAT JESSE WEIRDO SAYS HE WANNA DECLARE WAR ON ME. WTF . WHETHER HE WAS BEING SERIOUS ONOT...HE IS SERIOUSLY DELUDED MAN.
I HAVE NEVER MET SUCH A

NOT

HANDSOME ENOUGH GUY , WHOSE EGO IS SO HUGE THAT HE THINKS HE IS MUCH BETTER THAN ME ..To Mock at me and my appearance or person. IF HE IS FREAKING RICH I CAN UNDERSTAND...BUT HE DOESNT BLARDY EVEN OWNS A CAR LA (I GUESSed IT...) ASK HIM GO SLP LA...BRING WHAT CAR MODELS TO SCH AND SAE ITS HIS FAVOURITE HOBBY. NO $$ , WANNA ACT ....ACT HANDSOME , ACT CHRISMATIC...IF I LOOK ANIMATED...U BLARDY LOOK LIKE "SI BAK GAO" WITH UR NERDY SPEC AND ANGULAR FACE. NOT TALL , NOT HANDSOME , NOT SMART , NOT RICH ..WHY THE HELL ARE YOU SO ARROGANT ANYWAY? YOU WANNA MOCK AND SNIGGER AT ME? GO GET YOURSELF A FANCIFUL CAR OR MAY BE DO SOME PLASTIC SURGERY LA...LOOK SO NERDY , still DARE TO LAUGH AT PEOPLE. BLARDY WEIRD SENSE OF FASHION PERSPECTIVE.
Declare war on me? He seriously has a problem man.,..i only share 2 tutorials with him...i dun even tok to him personally. BLARDY PISSING ME OFF. ANY OF YOU WHO SEES THIS AND KNOW JESSE..GO AHEAD AND BAO TOU MY BLOG TO HIM. , Go TELL HIM THAT HE IS FRIGGING NORMAL LOOKING SO STOP WALKING IN THE LIBRARY LIKE HE OWNS THE PLACE . AFTer the angelic princess blog issue...i have not been this IRRITATED AND PISSED FOR A LONG TIME. *ANGRY*
Penned @
2:42 AM
LYNNIE BD!!! MANY MANY YEARS..WE LOVE YOU STILL!!
Wednesday, November 08, 2006
I had just finished a presentation on semoitics analysis of the movie -CRASH today. That is a superb movie , about racial discrimination on the African Americans in America. Guess what?? Im supposed to be handing in an essay which i have not embark upon yet...the Topic is "The emancipation of BLACK WOMEN IN US HISTORY". Which i feel is a nicer way of putting it , with the Rose park and Emmitt Till (dun rem the actual spelling le) examples , it is more of citing how the BLACKS (that was how they were referred to in the past and since i am writing on a subjective essay , i shall refer to them as Blacks than African American as the term was coined only recently) were being oppressed along the years till the 25th (memory failing??haa) ammendment was made . When equality and liberty was open to all citizens of America..women , men , all ethnic groups. Lucky Lynching (hanging of blacks on the trees due to simply racist attitude.) and violent discriminatory acts do not happen that rampant and without legal disciplinary actions anymore. Law does nt chose to protect a certain group (eg: men , whites , christian) , and most of the time it treats everyone equally. Well , theoretically that is how the world should be , how society should be...but we know in reality things do not work that way. A particular ethnicity may be favoured more than another , wealth does in fact solved many problems ...legal or not . So well...as long as law does not work in enforcing discrimantory acts like JIM CROW laws that oppressed the Africans Americans then i guess , it is good enough ba.
Well...away with all that...as im to start writing my essay after i blog. Pardon me for all the boring thoughts above.
Now to Lynn little birthay celebration ..yesh it is little as there were only ME, Lynn n Cheryl . Lynn birthday is on this Friday but because Cheryl had to go Tokyo on Tuesday (thats yesterday) hence we celebrated it on MONDAY at VIVOCITY. It was my 1st trip there, the place as claimed ..was HUGE. To just meet the gals , i had to walk like 1 km from the MRT lo. BLARDY BLARDY...tired
I hate carrying a heavy bag and wear heels..the combination simply does nt work. (HINT..Guys if we are going out..can you be nice and help me carry my HEAVY BAG??) haaa...Kelvin TAN ZHENG ZHONG...Only u dote on me...and carry all my heavy stuffs all these years....DUN WORK LE LA....Follow me to sch and be my PA!!!Hahaaa I mISS u....haa
TAda
Thats the lil piece of Birthday Strawberry cake that Cheryl secretly ordered for Lynn when we entered Bakers INN...Good for Cheryl , her acting skill have really improved. We really love Lynn..it is very visible from Cheryl full involvement. She usually will make time if me or lynn wanna go out and she buys what we want even if she is broke because she needs to save badly to go Tokyo. She is lovely that gal. I think Cheryl n I has learnt alot from Lynn , from her loyalty to friends ,her full involvement with friendship as if it is a r/s with her bf. Although at times Lynn may want alot outta me and Cheryl , and sometimes both of us cant handle n unable to perform up to her standard which she can maintain. But she will let go n give us allowance to improve. Over the years, Cheryl and I have changed and really love her alot. Thanks for the patience (erm..although thats not ya strength..not ours either..haa) with us. JUst Bear in mind, these 8 years did not Just go by without gaining some treasure along the way. We Learnt that Friends endure with each other no matter what , we will stand by and love , care even Cheryl n I irritate Lynn to the core at times. hahaa
Lastly to end off...this is My NM Cheryl...in time to come i think i will love u as a gd friend too. Thanks for all the help in sch..all the lunching and company...hahaa u taught me afew technical stuff too...U remind me of ME n CHERYL in JSS at times...the laughter n gossips...haaI MISS CHERYL WONG SHI YUN....ARE YOU IN TOKYO HAVING FUN?? SHOPPING LIKE CRAZY? DID YOU FORGET ME AND LYNN??? HAA...I NOE you WILL NOT..Take gd care of ourselves over there and see you next week when u get back k.
Penned @
10:18 PM

Tuesday, November 07, 2006
Internet Love Song (She Blocked Me) Flash Video
This take some time to load but it is worth it. Rather funny , i watched it b4 but cldnt find it till today. Enjoy my friend.. ;)Tell me how u feels abt this yea..boring or nice?
Penned @
10:30 PM
Dont You Just Crave Them??
Saturday, November 04, 2006
I have been Nua-ing at home and in school for several days. I had several invites to get outta house but i reject. Wanted to go and watch a charity concert but it was at Fort Canning hill , i din wanna travel so far.
I had lotsa fun with Jing Fang who happened to be at JP , leonard and Skye @ Bedok 85 for supper , HOng Kong Cafe for some SI MUD TEA. Got home in the early morning for a good night sleep.
Anyway , i have been inspired or rather attracted to certain unique photographs - the theme is Bridal in Paris. It was lovely..
Makes me wanna get Married? haa...Elson khoo said that i was dreaming , without even a remotely idea of a potential boyfriend in sight.
The romantic and unique idea...is my Fantasy...ITS MINE!!!!! Pls dont use it for Ur wedding idea hor!! I dun care...im gonna patent the idea ...that these 10 years , none of my friends can have wedding photographs done aT PARIS!!! hahahaa
This is so Outta this world..My...
The Lights..so blinding..so lovely..My cute the other half...where are you???haaa
EH i name it the "DA VINCCI KISS" haa...
The scenery behind..the background..is to kill for ..
Sigh...cant seemed to upload another fantastic pic.
I WANT!!! I sound abit siao rite...but i want!! haa
DISCLAIMER: I took all these pictures from a forum , i have tried informing the photographer..so pls do not come and tag me saying its a breach of privacy, property or whatnot. I just loved the pictures..im not claiming them to be my personal work or whatsoever. Do not niam me...cos i never upload pictures whereby the couple's faces are visible. I dont think the couple will mind , as my blog is mostly accessed by friends..not widely publicised kind. If the photograpgher can put them on forum , i doubt any of them would mind much of it being publicised with my small circle of friends. SO a thank You to any passer by ,for nt giving EXTRA negative opinions. ;)
Penned @
11:42 PM
Birthdays Pictures and C.J OCS dinner!!
Thursday, November 02, 2006
TaDA..The out Dated pics of Jolyn and C.J at his OCS Dinner @ Raffles Country Club. The food sux..haa
Thats At Mei Ru's Bd chalet at Changi. I Tooks so much pain to drive there , ALONE at after Midnight!! *Scary* but what to do , all for my lovely good friend..Thats Pei Jun, MeiRu and ME!
*
SEOW CHIN Bd last Sat* at KTV-PARTYWORLD. I was the only SINGLE there that night. Even Peishi brought a DATE. Im sooOOOooo Lonely...hahaa nah..i had lotsa fun that night. ;) Thats for the 1st celebration in our 9 yrs of friendship yea.
The Pictures taken yesterday , @ Pei Jun 's Bd..at Ivins. 3 of us..still equally crazy. Love them to Bitz....
A Bd kiss for our pretty bd gal! Must be her 1st time getting Kissed by girls. We r the LesBian Buddies!! haaa
See how many birthdays party i have attended?? And to think my 21st went by without much of a celebration. I din even had a birthday cake if i remember correctly. I went out dinner with lynn they all , shan they all..but no birthday cake. Had lotsa friends..a bf...had a unmemorable 21st i think. Hope 22nd i get a cake...and lotsa fun. To make up for the 21st i had...haiz...no key...no cake..no bursting fun. Eh weird eh i like feeling sad for myself yesterday , but when i saw 2 bd cakes for seow chin (hello kitty somemore!!)..and Pei jun's yesterday..i just felt sad for my last yr bd... Nvm...Gonne be better!! Gambatte Cyo ! ;)
Penned @
2:17 PM
Happy Birthday Pei Jun
Wednesday, November 01, 2006
Its 8.45pm..and i just got home. The past few weeks swirled around me like a whirlpool..faster and faster , it engulfed me into the deep pool. My tuition kids were having their exams and it ended just yesterday.
My sociological essay , my New media projects were screwed up due to my last minute rushing of work. This semester is without a doubt , a killer for most of us. Have never felt so shagged , so Used up in energy level , so low in mentally capacity , physically incapable..
Some days i just feel tired. Some days i feel lovely..Some days i feel happy with all my friends around me..Some days i will suddenly feel moody..
Today started off well , i was all hip and chirpy and all looking forward to Pei jun's birthday. It is a long time since 3 of us gather so frequently since we left 1st 3 months. Both Mei ru and Pei Jun looked so Cute and Hip today. My heels were killing me..i dont know why nowadays i cant endure walking long distance in heels. My feet ached like hell..
We walked , chatted and laughed alot. They made me act like "xiao Bing" -clown today. Soo fun , may be thats why im sOOo Tired now.
I have attended too many birthday celebrations the past month. With Helaine(kinda) ,Meiru , Seow Chin , Pei Jun (today)..in only a short span of few weeks..i have exhausted my limit of singing Happy Birthday in an innovative way. ABit Broke liao...
Earning $400 a month from 2 tuitions and having to pay my own bills and transport , doesnt leave alot for birthday presents. Im not really stingy or what but im broke till i dun dare to go for celebrations anymore. As it seemed bad to spoilt other people mood by not going to expensive restaurants or buy presents if you do attend. So good friends..pls understand..im not working , if you have a birthday party , try not to expect an expensive present or me to turn up if ur invite is at some fancy restaurant.
Im dead Broke..im comtemplating MIA-ing for awhile...disappear from all Birthday till my financial budgets restore back to normal. Not gonna attend much celebrations ..except for Lynn's for the month. Pls Understand. ;)
Anyway ..gonna wish Mariam Happy BirthDAy Tml.
I love Pei Jun nonetheless...Mei Ru and P.J are one of the most straightforward gals i have met...they have attitude , may be they are nt the most easiest going person on earth (honest la darlings..hee ) but they are one of the Best people around. Honest and Loyal..I love these kind of friends. And thats why i will make sure i stick around them forever. Have a Few Friends , but Gd friends.
We took alot of photographs , had lotsa fun and went back to our Ivins Ivins (duno spelling correct onot..haa) and ate our dinner there.
I hate rainy days , they make me melocholny.
I hate Taxi Que...the que was hellish today at Takashimaya . Im never gonna que for cabs again..during rainy days in town.
Penned @
8:45 PM